Tyler, the Creator to Release a Shirt That Compares Donald Trump to Adolf Hitler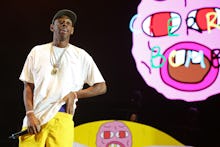 Add one more musician to the "Fuck Donald Trump" party. Tyler, the Creator, leader of the West Coast rap collective Odd Future, announced on Sunday he'll be releasing a shirt that seems to sum up his thoughts about presidential candidate Donald Trump.
Read more: "Fuck Donald Trump," YG and Nipsey Hussle's Track, Is the Ultimate Political Party Anthem
With a simple photo-editing job, the shirt graphic compares Trump to another famous politician who strove to make his country great again by relying on xenophobic rhetoric: Adolf Hitler.
A subtle mustache under Trump's nose is the only edit Tyler, the Creator, had to make. It's subtitled with the Trump's prospective term 2016-2020 and the short and sweet slogan: "We fucked up."
With the shirt, Tyler joins a line of entertainers who have all used their platform to speak out against the politician. 
Louis C.K. made the Trump/Hilter comparison in a March email. "It was funny for a little while," he wrote. "But the guy is Hitler. And by that I mean that we are being Germany in the '30s." 
YG and Nipsey Hussle recently did so on a track, "Fuck Donald Trump," which will soon accompany a video as well.
Raury appeared on The Late Show with Stephen Colbert in September, where he sang "Devil's Whisper" while wearing a green Mexico soccer jersey with a big red "X" crossing out Trump's name.
King of the South T.I. cursed out the candidate in a March Instagram video.
As a since-deleted tweet from Tyler read, more information about the shirt will be available at GolfWang.com on Monday at 8 p.m. Eastern.