The New Gay Children's Book 'Promised Land' Will Feature Two Princes Falling in Love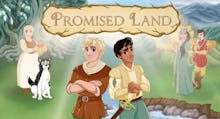 Let's be honest: The fairy tales of our youth were not super LGBT inclusive. Most representations of romantic love were all about princes kissing princesses, or straight men obsessing over a mysterious woman's shoe.
But now a pair of New Zealand writers is hoping to change that with their Kickstarter-backed project for Promised Land, a children's book that tells the story of a young prince and a young farm boy who find love in a hopeless place: the forest.
Just like in real life! (The forest, Grindr, same diff.)
"We wrote Promised Land because when we were growing up, there were no stories or role models to show us that 'happily ever after' could even exist if you're gay," Chaz Harris, who co-authored the book with Adam Reynolds, says in a video on Kickstarter page.
Harris and Reynolds join a growing number of children's books authors who have attempted to create more LGBT-inclusive fairy tales in recent years — from an animated tale of a brave gay knight to a charming story about two gay lil' penguins who adopt a baby penguin and start a family of their own.
In the preview video for Promised Land, the authors give a little synopsis of the story's plot: The book tells the story of a prince named Leo and a farm boy named Jack, who become fast friends after a chance encounter in the woods. 
"After the queen remarries, things soon get complicated after her sinister new husband seeks control of the enchanted forest that Jack's family is responsible for protecting," Reynolds says in the video. Meanwhile, Leo and Jack's relationship eventually "blossoms into love."
From the Titanic-y names Leo and Jack to the subplot of the asshole stepdad threatening to thwart the two heroes' romance with his plans for woodland domination, Promised Land sounds like a project sure to delight readers of all ages and sexual orientations. Which is perhaps why it has quickly surpassed its original fundraising goal of $16,933.
Find out more about Promised Land here.
h/t BuzzFeed