The New 'Game of Thrones' Trailer Features More White Walkers and an Ever-Sassy Tyrion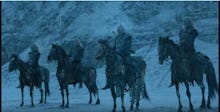 At this point, HBO is just toying with us — and we love it. With less than two weeks to go before the sixth season premiere, a new action-packed Game of Thrones trailer has been released to the public, and there's plenty of new material to sift through. 
Just as Ser Davos (Liam Cunningham) himself teased with a clip Thursday on Conan, the trailer implies the Onion Knight and certain members of the Night's Watch are protecting Jon Snow's body from the likes of those who killed him in the first place. "The real war is between the living and the dead," Davos says in the trailer. "And make no mistake, the dead are coming."
Interestingly, the White Walkers are receiving more combined screen time in the teasers released prior to the new season, hinting at a larger role this year. This time, it features a slew of the highest in command, including the Night's King, atop their undead horses.
Meanwhile, it appears Arya (Maisie Williams), while blind, is being given another chance to be a worthy assassin of the Faceless Men in the eyes of Jaqen H'ghar (Tom Wlaschiha). However, that doesn't mean he'll take it easy on her because she's lost her eyesight. Her sister looks to be in better shape as well, with Sansa (Sophie Turner) dressed in fancy Stark attire amidst an open plain — potentially a battlefield. 
Beyond the Narrow Sea, Tyrion (Peter Dinklage) is trying his best to deal with Daenerys' (Emilia Clarke) dragons, who are being kept in captivity while their mother is imprisoned by a Dothraki horde. "Dragons to not do well in captivity," Tyrion posits in the trailer. "That's what I do: I drink and I know things." 
Check out the latest trailer for Game of Thrones — which returns April 24 at 9 p.m. Eastern — below. 
Read more: 'Game of Thrones' Season 6 is Coming Soon — Here's What We Know So Far