Hillary Clinton and Bill de Blasio Made a Really Bad Joke About "Colored People Time"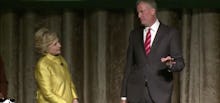 Turns out there's no good time to make this joke. 
At an Inner Circle fundraising dinner on Saturday night in New York City, Hillary Clinton took the stage with New York City mayor Bill de Blasio and Broadway star of Hamilton Leslie Odom Jr. While on stage, three engaged in a little sketch about "colored people time." 
"I just have to say thanks for the endorsement, Bill," Clinton said. "Took you long enough." 
The audience laughed. However, the audience didn't laugh after de Blasio's response. 
"Sorry, Hillary, I was running on C.P. time," he said, as the audience gasped.
Everyone's internal monologue was probably something like this: 
For those who don't know, "C.P. time" is shorthand for "colored people time," a moniker usually used as a joke in communities of color about people who are consistently late. And while de Blasio is married to Chirlane McCray, a well-known black activist, it's still something that clearly made others uncomfortable.
Odom Jr. quickly responded, as part of the bit, "That's not — I don't like jokes like that, Bill." 
Clinton stepped in to defend her friend, saying he meant, "cautious politician time." 
Given Clinton and de Blasio's rather stiff deliveries of the lines, none of the jokes really landed. And ironically, they most likely didn't land because of a lack of good comedic timing.