Goldman Sachs Reaches $5 Billion Settlement for Allegedly Helping Crash Economy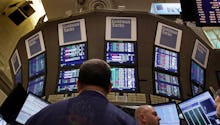 Investment giant Goldman Sachs will pay a $5 billion settlement to settle federal and state investigations into whether the firm helped crash the housing market with bad mortgage-backed securities, CNBC reported on Monday.
According to CNBC, the Justice Department's formal announcement of the settlement shows Goldman Sachs will pay $2.4 billion in civil penalties, as well as "$1.8 billion in relief payouts to underwater homeowners and affected borrowers and $875 million to resolve various other claims." The settlement was first acknowledged by the bank in January before today's formal announcement.
Allegations against the firm's conduct before the 2008 recession vary, but the most serious and well-evidenced are claims Goldman Sachs unloaded millions of junk mortgages into larger packages sold as solid investments. At the same time, the company shorted the securities it was selling. When the housing market collapsed, the supposedly safe securities did as well, effectively wiping out billions of dollars in American wealth.
"This resolution holds Goldman Sachs accountable for its serious misconduct in falsely assuring investors that securities it sold were backed by sound mortgages, when it knew that they were full of mortgages that were likely to fail," Acting Associate Attorney General Stuart F. Delery said in a statement released by the Justice Department.
$5 billion is a historically large settlement. But the firm posted total revenues of $37 billion in 2015, for an annual profit of $6.1 billion, meaning Goldman is paying out just 13.5% or so of the money it made last year through the settlement.
The median U.S. household made just $53,657 in 2014, the last year for which data is available, according to CNN Money. A very crude comparison would thus be a one-time fine of $7,251 for a median household.
In other words, the settlement is very big, but Goldman Sachs will probably find a way to get past it. $2.675 billion of the payment is tax deductible. The bank's investment unit has recovered much more quickly than the national economy, and fourth-quarter revenue in that department rose 7% to $1.55 billion.
According to Agence France-Press, a Goldman Sachs employee, former trader Fabrice Tourre, was convicted of a crime linked to the securities. The banking firm settled with government-backed housing giants Fannie Mae and Freddie Mac in 2014 for $3.2 billion.
The nation's three largest banks, JPMorgan Chase & Co., Bank of America Corp. and Citigroup Inc., have been penalized a total of $37 billion by authorities for their role in the crisis, Bloomberg reported.