Iggy Azalea Says She'd Cut Off Nick Young's Penis If He Cheats Again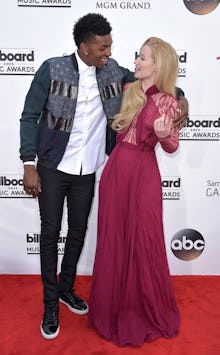 Iggy Azalea might not be too happy with her fiance, NBA player Nick Young, known better by the sobriquet Swaggy P, but at least he's still on her team. One more gaffe like the video his teammate leaked of him discussing cheating on his megastar rap girlfriend, however, and it's off with his genitals, according to Azalea. 
The "Team" rapper sat down with Florida morning radio show Wild 94.1 to discuss her new single, as well as the new regulations keeping her engaged to Young.
"Screw guy code, I'm not really concerned about guy code, how about what this person said in the video? That's what I care about sitting at home, obviously, I don't really care about D'Angelo Russell, or why he filmed this," Azalea told the radio show. "I'm not cool with it [cheating], like you will have half a penis. I already said, I was like, 'One more video, just one more thing and you will lose a quarter of your meat. ... Let me get some real evidence and you're gonna lose half an inch."
Well that's certainly one way to handle it. After a video of Young, taken by Russell, recently surfaced, in which Swaggy P says he slept with a 19-year-old after a night of clubbing while he was 30-years-old (meaning, he was with Azalea at the time), Azalea didn't shy away from addressing the viral content on Twitter. "Hmmm i see D Angelo Russell is trending," Azalea wrote. "I actually liked his film. Thanks bro."
Though cheating certainly isn't something to laugh about, and while many might question what Azalea's comments about chopping off her partner's genitalia would look like had a man said it, at least the Australian hitmaker is maintaining her sense of humor. 
When one of the radio show hosts suggested some basketball stars should be allowed to cheat on their wives because they are praised on the court, Azalea replied, "What does that make me able to do then, because I think I have more fans than him. Maybe if you just have some regular shmegular wife just sitting at home, you can sell that dream. But you ain't sailing me down that river. Sorry boo."
Check out the interview in which Azalea addresses Swaggy P's unfaithfulness below.