Touching Photo Series Shows How Happy People Look After 3 Glasses of Wine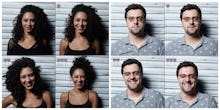 Brazilian photographer Marcos Alberti wanted to capture the real spirit of his friends — so he photographed them after one, two and then three glasses of wine. 
"The first picture was taken right away when our guests have just arrived at the studio," Alberti explained on his website, "in order to capture the stress and the fatigue after a full day after working."
Then, he wrote, "my project could begin."
"At the end of every glass of wine, a snapshot — nothing fancy, a face and a wall, three times." Alberti explained. 
The resulting portraits of his friends, a series that Alberti calls "3 Glasses Later," are sweet, silly, funny and open.
Alberti had another reason for sharing the photo series.
"I wanted to show the good side of drinking," he told Someecards.com. "With friends, in a good and happy environment, and with moderation, wine could be good stuff. [Wine] brings people together."
"People from all walks of life — music, art, fashion, dance, architecture, advertising — got together for a couple of nights," Alberti said on his website, "and by the end of the third glass, several smiles emerged and many stories were told."
More photos from the series are available on Alberti's website and Instagram.