Marriage Improves Chances of Cancer Survival, According to Study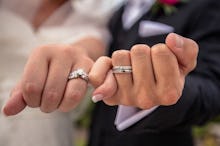 The Beatles may have been right when they proclaimed, "All you need is love."
Californian scientists analyzed 783,167 cancer patients — 386,607 of whom had died — and found the "social and emotional support of marriage" could play a bigger role than the socioeconomic benefits of marriage in improving chances of surviving cancer, the New York Times reported. 
The patients in the study, which was published online in the journal Cancer on Monday, were diagnosed with cancer between 2000 and 2009. The scientists weighed in factors such as treatment, race, "cancer site" and marital status.
Even after taking into consideration economic resources, such as health insurance, "unmarried men still had a 22% higher mortality risk and unmarried women a 15% higher risk than the married," according to the New York Times.
Read more: A New Biosensor Could Identify Cancer Within Minutes — And Potentially Save Your Life
"Across different racial and ethnic groups we were able to analyze whether economic resources played a role," Scarlett Lin Gomez, a lead author, said, according to the New York Times. "In fact, they play a very minimal role. It points more to social support as the defining factor."
Their theory applied to just about every type of cancer, and different cancers such as prostate cancer for men, and breast, uterine and non-Hodgkin's lymphoma for women had varying survival rates.