Watch a DJ and a Cactus Make a Perfect Trap Song Together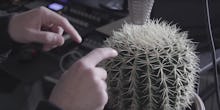 Just call it serendipity: When watering his plants, German DJ Daniel Gourski stumbled upon the revelation that his barrel cactus' needles were the perfect instrument for an electronic trap song, according to Motherboard. Called "Cactus Trap," the avant-garde jam is now available on Gourski's Soundcloud. 
For the song, Gourski recorded himself plucking on the cactus, then equalized and used a compressor on said recording. To complete the musical masterpiece, he added a fitting "808-heavy bass track," which incorporates kick drums.
Read more: 6 Lies We Need to Stop Telling About Electronic Music
"It's totally fun to lay down some ideas and try something you never did before," Gourski told Motherboard. "[After Cactus Trap] I bought a little tape recorder which I will always take with me now."
A cactus that's used in music is more than just a cactus that's cooler than the others, but it is also referred to as an "amplified cactus." Brooklyn composer Jason Treuting ran his hand over one while performing with his experimental musical group So Percussion, the New York Times reported in 2007.