40% of Retired NFL Players Showed Signs of Traumatic Brain Injury, According to Study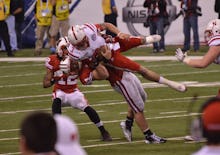 If you've ever watched a football player get leveled on the field, you probably weren't surprised when the National Football League admitted a link between concussions and traumatic brain injury in March. But new research shows how bad the problem really is.
In a paper released Monday, researchers at the Florida Center for Headache and Sports Neurology and Florida State University College of Medicine found that more than 40% of retired NFL players showed signs of traumatic brain injury. 
By administering memory tests and brain scans on 40 retired players aged 27 to 56, the researchers found, on average, players got 8.1 concussions in their careers.
Twelve other former players said hits they took were just below the threshold of an official concussion, which seems like splitting hairs when we're talking about getting your head smashed.
"This is one of the largest studies to date in living retired NFL players and one of the first to demonstrate significant objective evidence for traumatic brain injury in these former players," Dr. Francis Conidi, the study's author, said in a statement. "The rate of traumatic brain injury was significantly higher in the players than that found in the general population."
To see how the retired players' brains were working, the researchers used MRI to look at the movement of water molecules in the brain tissue. The imaging showed how healthy the brain's white connective tissue was after years of abuse. In the studied athletes' brains, the water moved much slower than it did in what's considered a healthy brain.
Other MRI scans showed damage in the nerve axons — or what your brain uses as a sort of in-office messaging service. Those results were most obvious when half of the participants had major problems during thinking tests: Almost a quarter had issues processing space and perception, 42% had attention and concentration issues and 45% had learning and memory problems.
Almost a quarter had issues processing space and perception, 42% had attention and concentration issues and 45% had learning and memory problems.
That's bad memory, bad learning, bad concentration, bad perception of the world — in almost half of the people surveyed. That doesn't even hit on the major behavioral problems that can come from repeated traumatic brain injury, which has led to a disturbingly high rate of suicide among players.
Is it preventable? Maybe — but only if we get rid of tackling.
"Even with the best helmet design, there's no way to fully prevent against the risk of traumatic brain injury," Kathleen Bachynski — a Ph.D. candidate at the Columbia University Mailman School of Public Health, who didn't participate in the study — said in a phone interview Monday. 
"Recently, Ivy League schools eliminated full-contact tackling in practices, to reduce overall exposure," she said. "At the NFL level, you're not going to substantially reduce full contact, but you need to remove players after concussions, or have someone independent to identify concussions when they happen."
Updating the regulations is all up to the league. But there's a problem with asking the NFL to ease up on its tackling policy. In 2013 the NFL's annual revenue was $9.5 billion — $2 billion more than Major League Baseball and more than double that of the National Basketball Association. Part of that revenue comes from the thrill of watching players get creamed at full speed.
On the other hand, the sport is contributing to the deaths of its players and leaving its retirees with brain injuries.
It's tough to give up making more money annually than the entire gross domestic product of Tajikistan. But maybe it's time the injuries outweigh the profits.
April 11, 2016, 6:23 p.m. Eastern: This story has been updated.