Bake an Egg Into an Avocado With the Help of This Mouthwatering Video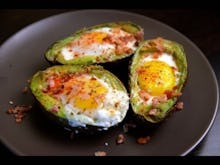 Scroll through Instagram or Pinterest on a weekend morning and you're bound to see at least a few versions of the baked avocado egg. You know, that photogenic dish where a yummy egg fits snugly into an avocado half, and then you bake the whole delicious thing? 
Read More: Cheese Lovers Will Drool Over These 12 Super Melty, Delectably Cheesy Dishes
If you thought that baking an egg in an avocado was out of your league, think again, because this video from YouTube chef Stephanie Manley breaks it down, step-by-step. Manley starts by splitting the avocado open and taking out the pit. Then she cuts off the bottom so it will stay stable on a baking sheet. 
To fit an egg into the hole where the pit used to be, you're going to have to hollow it out a little more. 
Manley wraps the avocado halves in tinfoil in order to catch any extra egg overflow.
Now it's time for the fun part! Cracking the eggs right into the avocados. Manley seasons hers with salt, black pepper and smoked paprika.
The next step is to pop them into a 350-degree oven for about 20 minutes (depending on how runny you want your egg). Once they're ready, feel free to sprinkle on whatever toppings strike your fancy, whether it's bacon bits, cheese or scallions.
Now you're ready to impress your friends on social media with your brunch skills. Go crazy!