Hillary Clinton Tears Into Bernie Sanders for Not Stepping Up on Gun Control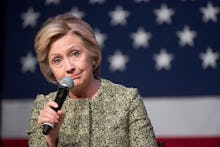 PORT WASHINGTON, N.Y. — A somber Hillary Clinton took presidential primary rival Bernie Sanders to task on Monday for not doing enough to fight for stronger firearms regulations, challenging her fellow Democrat at the center of a group of women who lost loved ones to guns.
"We cannot go on like this," the frontrunner said at the Landmark on Main Street, at an event hosted by Long Island Rep. Steve Israel. "If anything else were killing 33,000 people are year, we would be mobilized."
Read more: A Tearful Obama Announces New Executive Actions on Gun Control
Clinton took Sanders to task while speaking of the Brady Law. The 1993 gun control law, named for the aide to Ronald Reagan shot in an attempt on the then-president's life, "was a very tough legislative battle," Clinton said.
"When Sen. Sanders was in the House, he voted against the Brady Bill five times," she said pointedly. 
"I was very proud when my husband passed and signed the Brady Bill," Clinton continued, to applause.
Clinton called her own gun control platform in the 2016 cycle a "common sense agenda" that's about saving lives, not taking people's firearms away.
Gun control and Second Amendment rights are issues that resonate in New York City and statewide, where the candidates will be duking it out in a pivotal primary election April 19.
Among those joining Clinton at the Long Island event was the daughter of the principal of Sandy Hook Elementary School in Newtown, Conn., where 26 staff members and children were massacred in 2012.
Tackling gun violence: New York was the first state to pass a package of heightened gun control laws — the Secure Ammunition and Firearms Enforcement (SAFE) Act — following the slaughter in Connecticut.
Among Clinton's proposals: Closing the so-called gun show, online and Charleston loopholes — the latter having to do with the time allowed to conduct background checks. 
She also supports stripping gun companies of protections from legal liability.
"I voted against that. Then-Sen. Obama voted against it. Sen. Sanders voted for it," Clinton said, "and to this day, he has defended it repeatedly and persistently."
Sanders represents Vermont — a largely rural, gun-loving state — a fact he's cited in explaining his gun control record. It was a defense Clinton brought up directly.
"Here's what I want you to know: Most of the guns that are used in crimes and violence and killings in New York come from out-of-state. The state that has the highest per capita number of those guns that end up committing crimes in New York come from Vermont," Clinton said, setting off chuckles and murmurs from the audience.
"So this is not, 'Oh, no, I live in a rural state. We don't have any of these problems.' This is — you know what? It's easy to cross borders. Criminals, domestic abusers, traffickers, people who [are] dangerously mentally ill — they cross borders too, and sometimes they do it to get the guns they use," she said.
"This has to become a voting issue for those of us who want to save lives."
Some Sanders supporters are already taking exception to critiques of the Vermonter (by way of Brooklyn) and his track record on gun legislation.
Former New York state Sen. Thomas Duane, who backed Clinton in 2008 but now supports Sanders, said in a recent phone interview he considers it "disingenuous of Secretary Clinton to portray Sen. Sanders as someone who wants to see illegal guns in an urban environment."
"It's beneath her," Duane said.
Luke Brinker contributed reporting.