Khloé Kardashian Didn't Have an Orgasm Until a "Few Years" After She Started Having Sex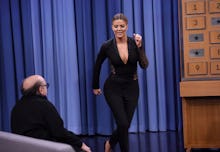 In the ongoing project known as "Khloé Kardashian Gradually Weaving Together Her Autobiography via Assorted Offhand Cheeky Remarks and Blog Posts," the reality star/businesswoman published a personal new post on her website and app Monday.
In it, she dishes on losing her virginity at the age of 15 — an experience she describes as basically the ninth circle of hell:
It's not funny to lose your virginity! It's weird and you're scared and it hurts and you don't know what will happen... I don't really remember it hurting but I do remember that I just wanted to get it over with. You definitely don't have an orgasm your first time. I didn't for the first few years!
Ah, the orgasm gap — the term that describes how 95% of men regularly orgasm from sex, while only 57% of women do the same, according to one survey — strikes again. 
It's a comfort to know that once upon a time, even Khloé Kardashian, with her sassy DGAF attitude and large-and-in-charge vagina, couldn't get a guy to make her cum. 
h/t People