Elon Musk Hid an Easter Egg in Tesla's Latest Update That's Straight Out of 'Mario Kart'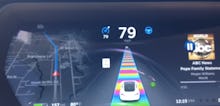 Elon Musk loves to hide Easter eggs in his Tesla software updates, and the latest is a nostalgic delight for Nintendo fans. 
When one Tesla owner flipped on the autopilot feature, he saw the road on his car's console display turn from black to rainbow — a la the Rainbow Road level in Mario Kart 64.
In a tweet, Musk, Tesla's CEO, confirmed the new "psychedelic cowbell road" feature comes with the latest software update. How can owners access the Easter egg? The road turns rainbow once you activate autopilot four times in rapid succession, Musk said.
Let's-a-go!
Tesla fans, if you miss careening through space on a rainbow platform and trying to nail that risky shortcut leap, give it a shot. 
Read More: 6 Facts About Elon Musk You Might Not Have Known
h/t Electrek