Alex Bayer's Viral Pornhub VR Masturbation Injury Was a Hoax, Of Course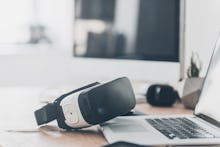 Sometimes the internet's greatest treasures are too absurd to be true.
Last week, a dude named Alex Bayer found a foolproof way to go viral on the internet. The photo on the left shows him passed out in the bathroom, butt-ass naked except for a T-shirt and a virtual reality headset. Oh yeah, and he's got a belt around his neck. It was a perfect re-creation of autoerotic asphyxiation gone wrong. In the photo on the right, he's giving the thumbs-up in a hospital bed. It's geotagged to University of California, Los Angeles, Medical Center.
"If you hadn't heard," Bayer wrote, "I was found unconscious on my bathroom floor at 3 a.m. by a couple of my roommates, and I'd like to share what happened so maybe I save someone from making the same mistake."
Gotta be a joke, right? 
Yep! When I direct-messaged Bayer on Instagram on Monday, he confessed he's an aspiring comedian who recently moved to LA. He told me he saw the post as a way to stand out from the competition. Nothing like smashing together autoerotic asphyxiation, virtual reality and a brush with death to catch the internet's fleeting attention span.
"We're all at the table eating breakfast and the topic of VR porn came up," Bayer explained. "I thought the image of someone combining that and a belt around their neck would be absolutely hysterical, so within minutes I was lying naked on the floor trying to keep a straight face."
Bayer collaged the naked bathroom photo next to an older picture, which was taken at a Chicago hospital.
"My family was mortified, but luckily it's going semi-viral and it somewhat justified the Instagram post," he said.
The Instagram post has raked in over 1,000 likes (read: semi-viral) and hundreds of comments — most of which are the tears-of-joy emoji, "WTF" and friends tagging friends. Aww!
"The most important part was I made people laugh," Bayer said. "And I have to ask you this... Has there been a moment in your life where you had to make a decision for yourself and not for your parents and your parents' friends?"
How far we've come from fake vomit and Punk'd.