Rihanna Has Officially Been No. 1 for As Long As the Beatles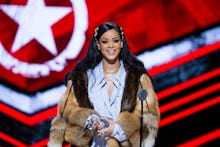 The Beatles once said they made scandalous headlines for claiming they were more popular than Jesus. As of Monday, Barbadian pop star Rihanna is on course to be bigger than both of them.
Monday, Rihanna's "Work" clocked its eighth week at No. 1 on the Billboard Hot 100. That makes it her 59th week at No. 1 over the course of her whole career, which ties her with the Beatles for the second-most weeks at No. 1.
The news is sweet vindication for fans of Rihanna's "Work," which has been ridiculed on the web in recent weeks for being difficult to understand. 
Even Rihanna's thick patois won't stand in the way of her making that money.
It should be noted that Rihanna actually collaborated with a Beatle — however, the Paul McCartney-featuring "Four Five Seconds" did not contribute to her tally of weeks at No. 1. The song failed to top the chart and also didn't make the final cut for Anti.
At this point, only one artist has ever sat atop Billboard's throne for longer: Mariah Carey, who has earned a total of 79 weeks. Rihanna will have to put in a lot more work work work work work work before she's stand eye-to-eye with the true queen. But with "Kiss It Better" and "Needed Me" slowly climbing the charts, that day may come sooner rather than later.