Anti-Trump Protester Assaulted During Clash at Albany Rally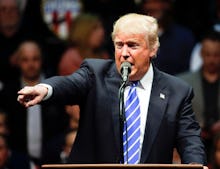 Tensions flared at yet another Donald Trump rally on Monday, as a supporter of the Republican presidential candidate assaulted a protester at a raucous campaign rally in Albany, New York.
The assault, captured on video, came after the protester loudly booed at a group of Trump supporters. A man in the group then lunged at the protester's face, prompting other Trump supporters to restrain the assailant.
A second video showed the protester being escorted out of the rally, held at the Times Union Center:
Speaking to NBC News after the incident, the assailant identified himself as "Mike" and confirmed that "hell, yeah," he is a Trump supporter. Mike said he lunged at the protester because he had been "yelling in my face."
Read more: Donald Trump Thinks He and Bernie Sanders Are Both Getting a Raw Deal
"Hey, I'll snatch anybody up if they yell in my face over anything," he told NBC. "I have my personal rights and my personal space. They're gonna start yelling about some [expletive], I'll snatch your [expletive] up. That's all."
Not a first: The incident follows much criticism of the GOP frontrunner for his alleged encouragement of violence toward protesters.
At a campaign event in Iowa, the Washington Post reported, Trump told supporters he'd heard that protesters were planning to throw tomatoes at him, saying, "So if you see somebody getting ready to throw a tomato, knock the crap out of 'em, would you? Seriously. Okay? Just knock the hell — I promise you, I will pay for the legal fees. I promise. I promise."
When a protester interrupted a Nevada campaign rally in February, CNN reported that Trump said he'd "like to punch him in the face" and waxed nostalgic for the days when such protesters would be "carried out on stretchers."
After a Trump supporter sucker-punched a protester at a North Carolina rally in March, Trump suggested on NBC's Meet the Press that he might pay the assailant's legal fees, although the Post noted that he later walked back those comments.
The latest incident comes at a pivotal moment for Trump, who's seeking to bounce back from a crushing loss to Ted Cruz in last week's Wisconsin primary — a defeat that substantially narrowed Trump's path to winning the 1,237 delegates required to secure the GOP nod before the party convention in July.
New York's April 19 primary may mark the start of the Manhattan real estate developer's comeback. The RealClearPolitics polling average finds Trump crushing rivals Cruz and John Kasich in the Empire State, garnering 54% support to Kasich's 21% and Cruz's 19%.