Two More Suspects Have Been Arrested in Connection with Brussels Attacks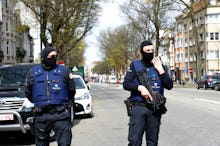 Belgian authorities arrested two more suspects in connection with the March 22 Brussels attacks, which killed 34 and injured 230 others.
According to the BBC, the two men, identified by local police as brothers Smail F. and Ibrahim F., were linked to a safe house authorities believed was used by two attackers. They have been charged with crimes related to "terrorist murder."
This new development follows last week's arrests of five suspects, including a remaining fugitive of the Paris bombings and one of whom was Mohamed Abrini, who confessed to being the "man in the hat" seen on videos leading up to the Brussels airport bombings.