Erykah Badu Thinks Girls Should Cover Up in Schools So Male Teachers Aren't Distracted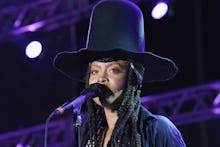 On Monday, the Cut reported on a New Zealand school's dress code requiring girls to wear knee-length skirts so as not to distract their male classmates and teachers, suggesting that these rules would keep the female students "safe."
For teens across the country, these words are cuttingly familiar, and many continue to protest the dress codes that punish and shame girls for their bodies. But when the Cut shared its latest story on the issue, singer Erykah Badu said she thought the New Zealand school was in the right — girls should have to cover up.
Read more: This Is What It Takes to Overturn Sexist High School Dress Codes
"I agree," the singer wrote. "We are sexual beings. We should consider everyone. Young girls are attractive. Some males are distracted."
Badu tried to chalk it all up to biological differences, and said hers is a lesson she would teach her daughters:
And she said it's men's "nature" to be attracted to a young women in a "revealing" skirt, so a stricter dress code for female students is only fair.
Badu's tweetstorm didn't go over so well with most of her followers. Though Badu tried to pass off her opinions on the sexist dress code as matters of fact, Twitter users didn't think they sounded all that different from straight-up victim blaming:
And others thought Badu was giving men a free pass when society should be holding them responsible for their behavior instead of the young girls they're sexualizing:
Badu's views may be representative of when, in 2010, the singer told the Guardian she doesn't see herself as a feminist and instead calls herself a humanist. Still, devoted fans were devastated to hear Badu agree with the sexist dress code.
And one Twitter user had just one word for the singer: