LGBTQ-Friendly Sign Ironically "Welcomes" North Carolina Visitors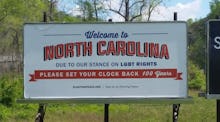 Florida has its oranges and orchard farms to greet visiting tourists. California has the Golden Gate Bridge and the Hollywood Sign. New York has the Statue of Liberty. And now, the Tar Heel State has its own fun, new way of welcoming visitors: by pointing out its archaic laws.
"Welcome to North Carolina," a billboard off N.C. Highway 108, along the North and South Carolina border, reads. "Due to our stance on LGBT rights, please set your clock back 100 years."
Humanitarian nonprofit Planting Peace erected the sign, an obvious shot at the recently passed legislation that, among other things, prevents trans people from using bathrooms that correspond with their gender identities. Group founder, Aaron Jackson, said his organization is simply opposed to taking away from the progress the LGBTQ community has worked on for so long. 
"Laws such as HB2 are not about bathrooms. They are about discrimination," Jackson told NewNowNext. "They paint a negative picture of the LGBT community, and in doing so, make LGBT children feel they are somehow broken or less than."
Planting Peace has previously taken action against measures preventing the progress and advancement of the LGBTQ community. In April, the group installed a different billboard in Jackson, Mississippi just after the passing of that state's "Religious Freedom Bill," a measure allowing businesses to deny customers service based on their personal religion.
"Guys, I said I hate figs, and to love thy neighbor," says a frustrated Jesus Christ on that sign.