Kansas' Spanish-Language Voting Guide Contains Some Very Suspicious Errors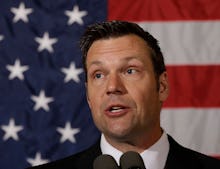 If you speak Spanish and plan to vote in Kansas, you might want to read this. There's stuff you should know.
According to the Wichita Eagle, the state's voting guide for Spanish-language speakers gave some very different instructions from the English version — instructions that, if followed, would effectively prevent many Hispanics from voting.
Democratic consultant Chris Reeves broke the news for Daily Kos on Thursday. After talking with a Spanish-speaking acquaintance, he learned two important things:
1. The Spanish-language voting guide in Kansas incorrectly stated people must be registered to vote 15 days before an election. The correct number, as stated in the English version, is actually 21 days (the number was changed in 2014, the Wichita Eagle reported).
This means Spanish-speakers in Kansas would have been under the impression they had six extra days to register — a six-day period during which, if they registered, their vote would be ineligible.
2. The Spanish-language version failed to mention that a passport is a valid form of ID used for voter registration. The English-language version, on the other hand, mentions it clearly.
This is significant because it gives the impression that other forms of identification, like a driver's license, are the only valid ones — a perception especially notable for people who don't have driver's licenses or who travel often between the U.S. and Mexico, Central America or South America using their passports.
Craig McCullah, a spokesman for Kansas Secretary of State Kris Kobach, acknowledged these errors. "It was an administrative error that I am diligently working to fix," he told the Wichita Eagle in a story published Friday.
The Daily Kos story hinted that suspicions have already been raised about whether the mistakes were intentional. Kobach, a Republican, has long been known as a fierce advocate for strident voter ID laws — laws widely acknowledged as thinly veiled ways to prevent racial minorities, who are less likely to have different forms of ID, from voting.
Meanwhile, the American Civil Liberties Union filed a lawsuit against Kobach in February, claiming Kansas' voter ID laws, particularly the proof-of-citizenship requirement, violate federal law.
"What's happening in Kansas is outrageous," Dale Ho, director of the ACLU's Voting Rights Project, told MSNBC. "Thousands of Kansans, including military veterans who have valiantly served our country, are blocked from voting by unnecessary bureaucratic roadblocks imposed by state officials. These shameful actions have made Kansas an epicenter of voter suppression."
The state of Kansas is 11% Hispanic.
The Wichita Eagle reported the errors in the online voting guide have since been corrected, and the rest of the Spanish text has been sent to professional translators to make sure no more errors were made.
Either way, it's already shaping up to be a wild election season. There's little reason to believe that will change between now and November.
h/t Colorlines