Bill O'Reilly Says Many Black Men Are "Ill-Educated and Have Tattoos on Their Foreheads"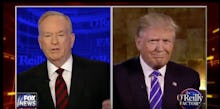 It's rare to sit down for an interview with GOP frontrunner Donald Trump and come away looking worse, but that's exactly what happened to Fox News' Bill O'Reilly on The O'Reilly Factor. Appearing on the conservative pundit's show on Monday, Trump was initially asked a slew of questions that at this point seem familiar — namely, why the media seems to hate him. 
In a strange but not entirely unsurprising twist, when the conversation veered toward black unemployment and what Trump would do to create more jobs if he were elected president, O'Reilly presented what he believed would the biggest predicament for employment for many black youth: their appearance and their education. 
"But how are you going to get jobs for them?" O'Reilly asked Trump. "Many of them are ill-educated and have tattoos on their foreheads, and I hate to be generalized about it, but it's true. If you look at all the educational statistics, how are you going to get jobs for people who aren't qualified for jobs?" 
O'Reilly's generalization about black people isn't just offensive — it's hypocritical, reflecting a double standard where black people are held accountable for their appearance and white people are not. Just take a look at the face tats on these fellas:
And, well, then there's this guy — though his comment also applies to O'Reilly at this point.  
Check out the O'Reilly-Trump interview below.