Two Radio Stations Got Thousands of People to Slut Shame a Photo of a Teen Girl at Prom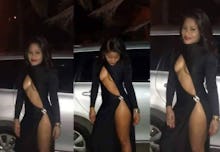 Get the five stories that will challenge you to rethink the world by signing up for MicCheck Daily.
On Monday, two radio stations — 105.9 Kiss FM in Detroit and Old School Cincy in Cincinnati — posted onto their respected Facebook pages the same photo of what they claimed to be a high school student on her way to prom in a "revealing" black dress. 
Both stations posed more or less the same question to their thousands of followers: "Would you let your daughter wear this if she really wanted to?" 
And thousands of followers gave some truly disgusting answers, each finding uniquely abhorrent ways to slut shame the young woman in the photo.
Many Facebook users called the woman's dress a "slut outfit." Others said that she was asking to "get raped" dressed like that. But all echoed the antiquated idea that a high school student wearing a "revealing" dress like that is asking for "the wrong attention" — and deserves it if she gets it. 
Read more: Calling a Woman a Slut Has Nothing to Do With Sex — It's About Control
Others claimed that her outfit wouldn't even pass a prom dress code. 
"She would be locked in her bedroom until she learned to respect herself and her body," one Facebook user wrote. 
"Is the brothel prom?" Another said. 
Mic called both stations to verify that the person in the photo is in fact a high school student, but has yet to hear back as of Tuesday morning.