Do Enjoy This Inspirational Video of Ciara Refusing to Say Her Ex's Name Out Loud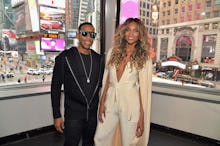 Sensual R&B siren Ciara found herself in something of a pickle on Monday morning's broadcast of Good Morning America, where she was tasked with announcing the 2016 Billboard Music Awards nominees for Top Rap Artist.
Things started out fine.
"Top rap artists are ..." she began, carefree and aglow. "Drake! Fetty Wap!"
But then, something happened. Ciara's carefree glow suddenly vanished. There was a bloated pause. A thick air of tension. An elephant in the room. She leaned ever so slightly in the direction of her co-host, rapper Ludacris. He then quietly said, "Future."
Ah! So the elephant in the room was Ciara's estranged ex-fiancé with whom she shares a child and also a v. acrimonious post-breakup rivalry.
"Wiz Khalifa," Ciara resumed, her glow returning. "And Silento!"
Upon re-watching this video clip 30 or so times, you'll notice that Ciara is an inspiration. She maintains grace and composure in the midst of what many would agree is a triggering situation. It's really the last thing we need after a breakup. She sees her ex's name on a piece of paper, which she is expected to read out loud on live television, but instead she says to herself: "No." 
And she paves an alternative path forward.
By leaning slightly in the direction of Ludacris, she is actually standing — standing in her truth. May we all learn from her brave example. Watch the video below.
h/t Cosmopolitan