Rachel Dolezal Doubles Down on Her Racial Identity on NBC's 'Today'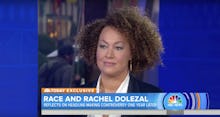 Just when you thought it was safe to watch daytime television again. 
Rachel Dolezal, former head of the Spokane, Washington, NAACP chapter returned to NBC's Today to discuss her new book about racial identity and to restate how she identifies. Despite being born to white parents, Dolezal still identifies as a black woman. 
"I don't have any regrets about how I identify," Dolezal said to Today anchor Savannah Guthrie. "I'm still me and nothing about that has changed." 
Since the initial June controversy, Dolezal has admitted that she was white. A then-pregnant Dolezal appeared on talk show The Real in November to discuss her racial identity. When she admitted she was "born white," the audience gave her a standing ovation. 
In June, Dolezal stepped down from her seat as the president of the Spokane chapter of the NAACP. She became a running media and late-night punchline, though her controversy did spark a lot of questions about racial identity and white privilege. 
When Guthrie asked her if she could have been more upfront about her early life, Dolezal said it was a "complex issue." 
"How do you just sum up a whole life of coming into who you are in a soundbite?"
People around the world who are "caught between boundary lines of race or culture, ethnicity" have reached out to Dolezal for support and to share their stories, Dolezal said. 
However, as Dolezal spoke, her answer became equal parts woke and confusing. 
"Race is such a contentious issue, because of the painful history of racism," she said. "Race didn't create racism, racism created race."
While that's fair enough, she then went on to disavow the notion of race and suggested that race had perhaps been not-a-thing before her story came out. 
"So I think it's important to really think through those a lot of those topics and questions that people have," she said. "And that's why this became so visible, because it really challenged people to think about identity and what is race? Is there one human race? Why do we still want to go back to that worldview of separate races?" 
Yes, it's admirable that Dolezal is working through questions of race and racism, but maybe it's best to sometimes take a page out of her own book, say you don't understand the question and walk away.