Women and Minority Journalists Field More Abuse From Internet Trolls, Study Finds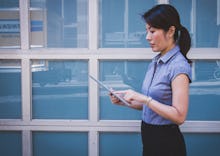 Here's a fun fact that should surprise no one: Of all the journalists putting their writing out there in the world, women and minorities attract the most internet ire, no matter the content of their stories. The Guardian analyzed the 70 million comments left on its site since 2006, and found that white men were the least abused of all its authors. 
Read more: Why the Workplace Gender Gap Is Worse for Women of Color
While journalism can be "enriched by responses from its readers," as the Guardian noted, what happens when the comments become "abusive" and "derail the conversation"?
"Imagine going to work every day and walking through a gauntlet of 100 people saying, 'You're stupid,' 'You're terrible,' 'You suck,' 'I can't believe you get paid for this,'" Guardian writer Jessica Valenti said. "It's a terrible way to go to work."
The publication's community standards prohibit "personal attacks," "persistent trolling and mindless abuse," "misrepresentation of the Guardian and [its] journalists," "offensive or threatening" content, "conversations which descend into flame wars" and "racism, sexism, homophobia or other forms of hate-speech," among other tactics. 
Of the 1.2 million rule-breaking comments it has blocked, most were left on articles written by women. The top 10 most trolled Guardian writers included eight women (four women of color and four white women) — two of whom were gay, one of whom was Muslim and one of whom Jewish — and two black men, one of whom was gay. The 10 least-trolled writers were men.
Anyone with an internet presence will eventually catch an embittered troll's eye, as those of us who aren't white men but write for the internet know all too well. Turning off the comments is an option, but where there's a will, there's a way — and angry internet throngs tend to be pretty willful. 
It's just one of the many joys of being a woman on the web.