Minooka, Illinois, Police Stop Using Body Cameras Because Life Is Hard Enough, OK?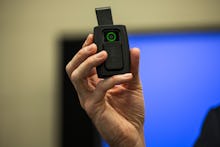 A little over a year ago, body cameras were being hailed as the go-to technology for fighting police misconduct. Today, they are being trashed as some of the more irritating bullshit the Minooka Police Department has to deal with every day.
The Morris Herald-News reports that police in Minooka, Illinois, have ended their six-month body camera testing phase, and will not be adopting the technology for full-time use. 
The verdict? Life's just too hard, man: Between the countless hours of tape officers must upload and all the footage requests they are expected to fulfill when cases go to court, Minooka has decided it's not worth the trouble.
"I was happy [with the body cameras]," Minooka Police Chief Justin Meyer told the Herald-News on Friday. "It just became a bit burdensome for our administrative staff.
"You could have four officers on a call for a domestic incident," he added, by way of example. "If they are on scene for an hour — whether there's an arrest or not — that's four hours of video that has to be uploaded."
The town of Minooka has 15 uniformed police officers, and just over 11,200 residents, according to census data. In 2015, Illinois became one of the first states to legislate guidelines for police using body cameras. 
The law was a response to growing discontent around police violence against black people. It did not require police departments to adopt the technology, but told them how to use it should they opt to do so.
Minooka is already over the experiment — the logistics of which have caused growing pains across the United States, despite their apparent beneifts for police. Only time will tell if other departments follow suit.