2 High School Students Charged With Hate Crime for Snapchat Death Threat to Black Student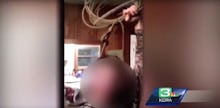 Two 16-year-old students at Central Catholic High School in Modesto, California, were arrested Monday on hate crime charges for sending a disturbing Snapchat video death threat to black student named Noah Porter in late March, KCRA reported. The students will be sent to Stanislaus County Juvenile Hall for "making terrorist threats, committing a hate crime and criminal conspiracy," according to the Washington Post. 
The 12-second video opens with a scene of a rifle in its gun case, then cuts to one of the white students with a noose around his neck, KCRA reported. The students addressed Porter by name, along with, "You must die." The video ends when a handgun is fired.
Read more: Hate Crime Maps Reveal the Most Prejudiced Places in America
"The death threat made me afraid," Porter told KCRA. "I know the noose around someone's neck is nothing to joke about. I heard my name in the video. The death threat made me afraid because I was singled out. I felt threatened and angered." 
Porter's mother notified the school of the video, and then went to the police when she failed to hear back. "I knew I had to do something because that was a threat and then with the noose and the gun, it all just tied together," she said to KCRA. 
"If we think it has something to do with a hate crime we're going to investigate it as such and there really is no gray area for us, we're going to make sure we investigate it to the fullest," Modesto Police Sgt. Chris Adams told KCRA. Police had searched three homes to "understand why those involved decided to produce that video," Capt. Brian Findlen said, according to KCRA. 
As another result of the case, the Porters, their attorney and the school created a 10-step plan on how to handle hate crimes, which will also go into the student handbook KCRA reported.