Here's How to Peel an Orange the Right Way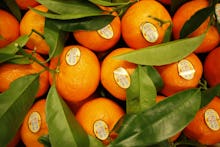 Oranges are an ideal healthy snack to throw into your bag when you're rushing out the door in the morning. Not only are they packed with nutrition, their natural packaging makes them easy to carry. But, oranges are not without a flaw: The peel has often proved to be formidable finger workout and a battle of patience and precision. 
Alas, there is a way to peel an orange without ripping out chunks of fruit with the peel, making a mess or tossing the orange across the room in rage. DIYer Harjinder Sidhu is here to help you. 
First, start off by making a cut — not too deep — around the orange, slowly turning until you reach the other side.
Then, insert the end of a spoon under the peel, and rotate the orange. Repeat for the other side of the orange.
Next, twist both sides of the orange. 
You may have to use the spoon again to get the orange fully out of the peel and then use a knife to clean off any stray peel left over.
Voilà — a peeled orange, with a neat, environmentally friendly takeout case (we're looking at you Whole Foods). 
Read more: That Tab at the End of Chopsticks Has a Mind-Blowing Purpose