8 Major Female Characters Died on TV Last Week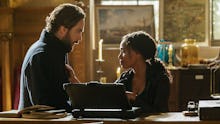 Through sheer coincidence, six different TV shows killed off eight different major female characters from April 4-10. If that's not a record, it's certainly close to one. (Editor's note: Spoilers ahead for Sleepy Hollow, Empire and several other TV shows.)
Daniel Fienberg of the Hollywood Reporter noted the hefty toll in his column Monday, questioning the motive behind the high body count. The week in question didn't even fall into a traditional "sweeps" period, known as a time for a high number of deaths. There were reasons behind some of the deaths — actors wanting to leave, shows where anyone can die — but the total impact of all eight together is a worrying one.
Read more: Viola Davis Made History at the 2015 Emmys, and Everyone Should Watch Her Speech
Compare this week to just one sweeps period in 2015. From April 23 to May 20, 2015, 21 major female characters died. That's a proportion of 21 deaths over 28 days — three-fourths of one female character dying a day. During the week of April 4-10, 2016, 1.15 major women characters died each day — significantly more.
The female characters in question who died (editor's note: final spoiler warning):
Nina Krilova, The Americans
This stat doesn't point at any particular trend; as Fienberg noted in his column, the reasons for the deaths ranged from source material (Hap and Leonard) to an actor's desire to leave (Sleepy Hollow) to a creator culling characters that never worked in the first place (Empire). But the timing is alarming, particularly in how it hints at greater problems regarding representation in film and television.
Take Abbie's death in Sleepy Hollow, for instance. She's one of the two lead characters on Fox's Sleepy Hollow, and while actress Nicole Beharie wanted out, her exit was also framed as a sacrifice to save the other main character: white, male Ichabod Crane. As actor Orlando Jones noted on Twitter, it's rare that a white, cis male and/or straight character has been made to sacrifice themselves for a minority character.
If this strange, bloody week should cause anything, it should be reflection on what kinds of characters TV showrunners think of as expendable. Women, people of color and queer characters are still wildly underrepresented in pop culture, so every death — not just departure, but final, fatal death — matters. It's taking one voice away from groups that need all the voices they can get.
So yes, it may have been a coincidence, but eight female TV characters dying in one week matters. It's a siren; a sign that something in the way creators think about these characters is flawed and must change.