One Year After Baltimore Went Up in Flames, Maryland Moves to Pass Criminal Justice Reform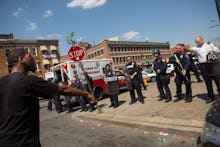 Just a day before the one-year anniversary of the death of Freddie Gray, the young black man who suffered a fatal spine injury while in the custody of Baltimore police, Maryland lawmakers passed legislation on Monday that would initiate a number of reforms in the state's policing and criminal justice system. 
The policing reforms aren't sweeping, but represent a moderate bid by lawmakers to improve law enforcement practices amid a national movement to push back against excessive use of force and arrest powers against racial minorities. Maryland became one of the epicenters of that movement last year when the death of Gray set off high-profile protests, riots and eventually visits from national politicians.  
Read more: This Governor Is Revolutionizing the Way the Criminal Justice System Treats Young People
The basics: According to the Washington Post, the legislation was based on recommendations from a working group formed in the wake of Gray's death. It includes changes to hiring, training and disciplinary measures for police officers; provides tax incentives for them to live in the communities they work in; and creates a channel for anonymous complaints about their behavior. Crucially, the reforms do not provide civilian review boards with independent investigative powers, as many advocates had pushed for. 
As far as sentencing reform is concerned, the legislation was designed to help the state cut down its prison population and approach drug offenses from a less punitive perspective, and it too represented a modest victory for progressive justice advocates. 
The legislation is packed with a number of reforms intended to temper the harshness of the state's penalties for low-level offenses. It eliminates the use of mandatory minimum sentences for nonviolent drug offenses, although it leaves them intact for violent dealers and kingpins, according to the Associated Press. It also relaxes the requirements that allow nonviolent drug offenders to become eligible for parole after completing a quarter of their sentences.
The bill limits the ability of judges to hand out long sentences for minor parole violations, and it abolishes the long-controversial double standard in sentences for crack and powder cocaine.  
According to the Baltimore Sun, the legislation also "gives priority to drug treatment above incarceration in cases of drug possession and ... makes it easier to expunge convictions for certain lower-level crimes after a certain period of good behavior."
Maryland Gov. Larry Hogan (R) has supported the sentencing legislation in the past, and could sign it into law in the coming month.  
The significance: The bill also includes some harsher sentences. The maximum penalty for second-degree murder, for example, was lengthened by 10 years. The death of a child by way of child abuse could result in a life sentence under the legislation. 
That a bill designed to help end mass incarceration includes some harsher penalties highlights just how long of a road advocates for reducing the prison population face in the state. While reducing sentences and placing more emphasis on treatment for nonviolent drug offenders is a worthwhile step — and one that's received praise from criminal justice reformers in the state — it would place only a modest dent in the state's prison population. In Maryland, drug crime has been one of the top reasons people have been incarcerated in recent years, but drug offenders ultimately make up less than 20% of the state prison population. 
That's roughly in line with national trends. As the Marshall Project has reported, only 4% of state prisoners nationally are incarcerated for drug possession, and another 12% are in prison for drug sales, manufacturing or trafficking. People charged with property crimes and violent crimes constitute the overwhelming majority of state prison populations, the organization noted.
Even decades after the peak of America's tough-on-crime rhetoric in the late 20th century, discussing how to change society's perception of violent offenders remains fairly taboo. It's still quite difficult to get away from the notion that pushing for shorter sentences and more rehabilitation for every kind of offender represents a cavalier attitude toward public safety. But if you truly want to end mass incarceration in this country, it's a necessary conversation.