College Student's "Provocative" Tinder Profile Picture Got Her Kicked Out of Her Sorority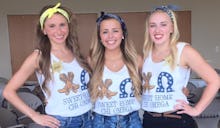 Shannon Workman, a student at the University of Nebraska Omaha, was dismissed from her sorority Chi Omega Zeta Delta because of a "provocative" and "risque" Tinder profile photo, according to the New York Daily News. In the photo, which had been on Tinder for eight months before being noticed, Workman is posing in-between two sisters, all wearing a "Sweet Home Chi Omega" shirt, local television station WOWT reported.
The shirt disobeys the Chi Omega sorority's Rule of Human Dignity, in which the sisters aren't allowed to upload any photos to any platforms that might cause "disrespect to the chapter," according to WOWT.
The sorority also accused Workman of using it for hookups, according to a Facebook post by Workman's mother.
Read more: Tinder Just Threw a Hissy Fit at a Woman Who Rejected It
Workman had already removed the photo and was still called in for a meeting, which she secretly recorded. "The fact is we're having combative attitude and disrespect," the board said about her in the meeting, WOWT reported.
"I don't think it's provocative or risque and required the meeting in the first place." Workman said, according to WOWT. Her mother agreed, saying it was "in very good taste."
The other two students in Workman's photo left the sorority. There are other claims of "corrupt going ons," according to a Facebook post by another expelled member.