SC Officer Kills Unarmed Black Man, Gets Probation, Community Service, No Jail Time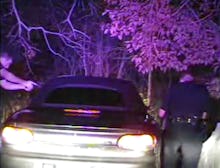 Two years after killing 68-year-old Ernest Satterwhite in North Augusta, South Carolina, here's the punishment Justin Gregory Craven is facing today: three years of probation, 80 days of community service, no jail time and a pretty sweet life ahead of him, considering the circumstances.
"We couldn't ask for a better outcome as far as the sentence is concerned," Jack Swerling, Craven's attorney, told reporters Monday, according to Reuters. "[He] got probation, no house arrest and he's pretty much free to go live his life."
Meanwhile, Satterwhite is still dead. After leading Craven on a 13-mile car chase in February 2014, the former auto mechanic pulled into his own driveway, where the white former North Augusta public safety officer opened fire on his parked car.
Satterwhite died at a hospital, and Craven was charged with discharging a firearm into an occupied vehicle in April 2015 — the same day Michael Slager was charged with murder for shooting Walter Scott, another unarmed black man, two hours east in North Charleston, according to the Washington Post.
But Craven's case appears to have flown under the radar amid other headline-grabbing incidents in South Carolina.
From the Scott shooting to the killing of nine black parishioners at Emanuel AME Church in Charleston and the ensuing debate that followed around the Confederate flag, there's been no shortage of racism to go around Dixie this past year.
Even so, the charges against Craven left many scratching their heads. Despite video footage showing the incident as it occurred, the 27-year-old was initially charged with only a misdemeanor, "misconduct in office," according to BuzzFeed. 
The charge was later upgraded to the aforementioned felony — but on Monday, that charge was dropped as part of a plea bargain.
Then came the real twist: Craven pleaded guilty to misconduct in office, the original misdemeanor charge, and was sentenced to probation and community service. Had he been convicted of the felony, he would have faced up to 10 years in prison and a $1,000 fine, Reuters reported. A grand jury had already declined to charge him with voluntary manslaughter.
At this point, it should shock precisely no one that yet another law enforcement officer has gotten away with no jail time after killing an unarmed black man. But after almost two years of steadily declining protests against anti-black police violence across the United States, it's especially disheartening to see how little has actually changed.
This is how far we've come.
h/t Reuters