Sexual Assault Survivors Are Outing Their Rapists on the Anonymous Corners of the Internet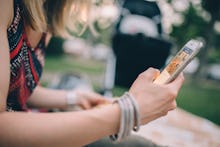 On a Thursday night a few weeks into Ellie Amicucci's first semester at Vassar College in 2014, she went out with her friends and drank too much vodka too quickly. She blacked out and was brought back to her friend's dorm, where she vomited on his bed. When her friend's roommate came home, he found her in the room and raped her.
Amicucci didn't want to report her assailant to the police. Instead, she did what students had been told to do during freshman orientation a few weeks earlier: She reported the incident to the college.
Vassar, located in Poughkeepsie, New York, launched an investigation and scheduled a disciplinary hearing. "I had a lot of faith in the system and in Vassar that they would do right by me," Amicucci, now 20, said in a phone interview. She was confident her assailant would be held responsible for her assault.
He wasn't. While the panel said there was "no doubt" Amicucci was "very intoxicated," the officials also said there was not "a preponderance of evidence" that Amicucci's assailant knew she was too drunk to consent. So they absolved him of responsibility for the assault.
Amicucci was stunned. She filed an appeal of the decision and wanted to put pressure on the school to take action. So she went public with her story, writing an essay about her rape for the student publication Boilerplate.
The response was powerful and immediate — particularly on Yik Yak, the app that allows users to anonymously post messages ("yaks") that can be read by anyone within a five-mile radius. Spurred by Amicucci's essay, other Vassar students took to Yik Yak to discuss their own experiences with sexual violence on campus. Some users identified the men who assaulted them — including several who said they had their own predatory interactions with Amicucci's assailant.
Amicucci's experience with Vassar's administration is not unusual for survivors of sexual assault at colleges and universities in the United States. An estimated 1 in 5 women and 1 in 16 men experience sexual violence while in college, and school administrations have been notoriously unwilling to punish those who commit sexual assault and rape. As a result of student activism, the Department of Education is investigating more than 100 schools for violations of Title IX, the landmark 1972 law that requires schools to provide an educational environment free of sex- or gender-based discrimination.
Due to the stigma associated with sexual assault and the fear of being victim-blamed by the police or their university's administration, many survivors feel uncomfortable coming forward with their stories. That's given rise to reports of rape on anonymous online forums like Yik Yak, Whisper, College Confessions and campus-specific confessional Facebook groups. On such forums, survivors can find support and, in some cases, demand accountability from their schools, as well as justice for themselves.
These apps and sites are typically viewed as backwaters of the internet, defined by seedy rumors and anonymous backbiting. However, many survivors of sexual assault use them to expose their attackers, allowing victims to take control of their experiences. This shift has led to questions about the degree to which school administrations should be paying attention to what's said on these platforms, and what they can — and should — do about it.
A 21st-century spin on the "rape list": Outing specific offenders online is an updated version of an old-school activist strategy, according to Annie Clark, executive director and co-founder of the advocacy group End Rape on Campus.
"It's not a new phenomenon. The forum has just changed," Clark said in a phone interview, referring to how college students have historically outed rapists. "People have been writing rape lists since the '80s and '90s, passing out fliers, writing names on doors. It's just now you're behind a computer screen, and not a bathroom stall."
Given that anonymity is a central feature of these platforms, it's difficult to measure just how many people are actually using apps and forums to discuss sexual violence on campus. But what is clear is that many survivors use anonymous apps and sites to warn their fellow students about classmates who have committed assault.
"I saw people say on Yik Yak, 'This person assaulted me' or, 'They assaulted my friend,' and other people will say, 'Yeah, me too,'" Amicucci said. "There were multiple perpetrators called out or named."
That said, people don't traditionally think of apps like Yik Yak as tools for pursuing social justice. On college campuses, such apps are often viewed as conduits for virulently racist, anti-Semitic and/or Islamophobic comments. The fact that rape survivors are turning to such forums only underscores the fact that students often seek out these communities because they feel they have nowhere else to go. As Caroline Heldman, an associate professor at Occidental College and a co-founder of End Rape on Campus, said by phone, the fact that students are reporting anonymously is "an indicator that administrations are failing survivors."
"If the way they're seeking justice or healing is through anonymous online forums," Heldman said, "it indicates the survivor doesn't feel comfortable coming forward in an institution."
"If the way they're seeking justice or healing is through anonymous online forums... the survivor doesn't feel comfortable coming forward."
Turning a blind eye to an epidemic: When survivors divulge details of a sexual assault online, they contribute to a digital archive of rape reports. The existence of such an extensive, anonymous catalog of these disclosures and discussions raises the question of what responsibility school administrations have in investigating allegations made in unofficial online spaces, where contributors are nameless.
Under Title IX and the Clery Act, institutions are only required to investigate reports of sexual assault filed by accusers themselves, according to Heldman. Administrators might interpret the law to mean they should respond to reports from digital bystanders, she added, but "technically [schools] have no obligation to respond or reach out" to claims that are made anonymously online.
However, even if colleges were more proactive in responding to anonymous reports of sexual violence on third-party platforms, doing so would present inherent (and likely insurmountable) challenges. There is no way to determine if an allegation of rape made in a confessional forum is true — though false accusations are rare — and no way to track accusers without also violating their anonymity. Additionally, following up on claims of assault that are made online, especially if they aren't made through official channels, runs the risk of violating survivors' wishes.
Still, some faculty, including Heldman, argue campus administrators could be doing more to monitor anonymous online platforms to get additional insight tracking incidents of sexual violence.
"I don't think they should violate the anonymity component; it would be a violation of survivors' trust to try to figure out who they are and contact them," she said. "With that said, I think administrators, if they're seeing a pattern on Yik Yak [or another site] that matches something they know already about, they can use that information in a general sense."
An alternative to anonymous reporting: Anonymous apps and forums have also become crucial tools for holding schools accountable for flawed investigations into sexual assault claims that can traumatize survivors.
At Howard University, school officials recently conducted an investigation of an alleged rape on campus. Students later criticized the investigation for failing to remove the alleged assailant from campus. The accuser turned to social media to critique the handling of her report, sparking conversations on social media among other Howard students about the safety of women on campus. Those conversations ultimately turned into demonstrations, which put pressure on campus administrators to respond.
"The Howard administration is responding to the media," said Simone Yhap, a freshman at Howard and a member of the school's new Take Back the Night group. "The president has been saying, 'Don't take your issues to social media,' but we have to because they're not heard otherwise."
In the midst of the protests, Ammon Lyle, a junior at Howard, created an anonymous survey "to shed light and provide clarity about rape culture at our university." Of the 126 responses Lyle received, 42 described individual instances of sexual abuse during students' time at Howard; of those, he said, fewer than half were reported to the school.
"A few people aren't reporting because they don't feel the university's policies are adequate; some students feel there will not be action taken," Lyle said. "Another reason is because some students don't know the policies and procedures [for reporting]."
Colleges and universities could potentially implement their own anonymous forums like Lyle's, which would remove some of the burden on survivors to file reports. Alternatively, campuses could rely on technology that is already being developed to allow students to report sexual assault confidentially to Title IX coordinators.
Programs like Callisto allow students to confidentially report instances of sexual violence directly to their schools and are already available for use on two college campuses, but likely won't be adopted nationwide for quite some time.
Getting control over their own stories: For the time being, the reporting systems in place are the only option students have for taking action after an assault.
"I think a lot of survivors would want to come forward and report and get rid of [their attackers] if they had any faith in the system," Amicucci said. "But schools are proving again and again they're not doing what they need to."
As far as Amicucci is concerned, Vassar is still one of them. The day she published her story, she learned that Vassar had rejected her appeal; her case was over, and her assailant would be allowed on campus until he graduated.
For a time, Amicucci continued going to class and participating in school activities. But she kept running into her rapist.
"I kept thinking it would get better and that I would feel better with time," she said. "But pretty much the opposite happened." So she decided to take this semester off. As far as she knows, her assailant is still on campus.
While Amicucci is dismayed by how the administration handled her assault, she's not sure what she could've done differently in terms of reporting her rape, save for not reporting it at all. But she's proud of the fact that she came forward with her story. She lost so much after her assault that, at the very least, she wanted to maintain control over her own narrative.
"It's so vital that survivors have control over the situation," Amicucci said "It's their prerogative to report and go to the administration. But something needs to change. If everyone is aware that a person is a rapist or predator, and that person is just allowed to walk around..."
She trailed off for a moment. "I don't know what can be done," she said, "but it's really messed up."
Correction: April 14, 2016