Today Is Equal Pay Day if You're a White Woman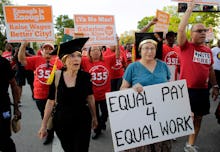 Congratulations, women! 
Well, white women, that is. 
Today is Equal Pay Day in the good ole' USA, the day where we observe that it takes a full calendar year plus the days until April 12 for women to earn what it takes a man to earn in a year for the same work. 
While some people will use this as an excuse to make silly sales: 
There is an even more important truth to recognize here: Today is White Women's Equal Pay Day. 
While women earn 79% of a man's dollar, according to the latest estimates from the American Association of University Women, black women earn 63% of a white man's dollar, while Latina women earn 54% of a white man's dollar, the worst pay gap of any race. 
That means, if you're marking your calendars for Black Women's Equal Pay Day, you should circle Aug. 23, and for Latina Pay Day, it's Nov. 1. 
There are other disparities, as well: Native American women would wait until Sept. 13 for equal pay, while moms, according to vice president of government relations at the American Association of University Women Lisa Maatz, have to wait until June 4 to make the same as a white man. 
As Equal Pay Day gains steam around the world, it's important to remember the key ways that we can achieve pay equality for women of all races. 
Dawn Lyon, head of corporate affairs at job website Glassdoor, told USA Today that transparency is key when it comes to achieving pay equality. 
"About 60% of companies do not share pay data internally," Lyon said. "Transparency around pay eliminates inequities and helps people understand what fair pay is."
While some companies like Facebook report having achieved pay equality company-wide, as their head of HR Lori Matloff Goler points out above, there's still a long way to go. Especially if you're a working nonwhite woman.