North Carolina Brewers Plan a Special Beer to Protest Anti-Trans Law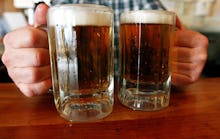 A collection of more than 30 craft breweries in North Carolina are joining together to fight House Bill 2, a law passed in March that bans transgender people from using public bathrooms that correspond with their gender identity — because what better way to protest than with beer?
Read: How Discriminatory Bathroom Bills Hurt Transgender and Gender-Nonconforming Students Most
In response to the so-called "bathroom bill" law, which some have called "the most extreme anti-LGBT measure in the country," these beer-makers plan to join forces to brew a special beer called "Don't Be Mean to People, A Golden Rule Saison," reports The News and Observer. All proceeds from the special brew will go be donated to "Equality North Carolina and the QORDS summer camp for LGBT youth," both LBGT-focused non-profits.
"We have the power to do good and to show the world that this legislation doesn't represent us.  We are businesses that care about inclusion and equality.  Rather than using our collective power to condemn, we're going to use it to help," the project's founders, Erik Lars Myers and Keil Jansen, wrote in a statement on their Indiegogo page.
As of Tuesday afternoon, the project had already raised more than $12,000, far surpassing the goal of $1,500.