This Is Why White Affluent Young Men Vote Donald Trump, In Their Own Words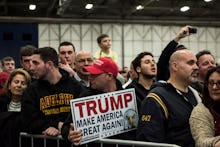 They've got money to burn and a vote to cast — they are the young white men with money who vote for Donald Trump. 
In a new video released by CBS News, young, mostly white men — "Trump bros," the network calls them — who support the Republican presidential candidate and business mogul told the outlet why exactly the billionaire has their support. 
At a Trump rally in Bloomington, Illinois, CBS spoke to Ryan Poland, who wore head-to-toe Trump and America gear, including America-themed Nikes. 
"I like Trump because he speaks the truth," Poland said.
CBS News captured a series of reactions when several "Trump bros" explained to them in short sentiments why Trump earned their vote. 
"He's got spine," one said. 
"I think money attracts money," another said. "And that's why I like Trump."
"I think America needs doers in the country — not just talkers — doers," a third supporter told CBS News. 
And yet another said, "He does him. Doesn't pretend to be anyone else, he does him."
Grant Sandberg, a high school senior who wore a suit and baseball cap to emulate Trump, said to CBS News, "We're not afraid to show that we enjoy being Americans, and Trump portrays being a good American." 
Trump's history of sexism — comments about women who get abortions, a comment about Megyn Kelly's period — doesn't really phase the Trump bro, either. 
"Misogyny was an issue about maybe 60, 80 years ago," 18-year-old Jack Rowe said to CBS News. "That's not an issue today. There are a lot bigger fish to fry ... You know, ISIS is chopping off heads. We've got $19 trillion in debt."
David Portnoy, founder of Barstool Sports, a fratty sports website, said that Trump's support is all about anxiety over political correctness. 
"There is a sentiment among frat guys, lacrosse players and middle class affluent white kids that they are kind of getting persecuted lately," Portnoy told CBS News. "You gotta walk on eggshells. There's kind of that feeling, and Trump, he tells a joke and doesn't back down. He says things that would normally been frowned upon. At a school, a kid would get expelled." 
He added, "Not that it's right or wrong, but he's sort of defending a lot of the things they've been attacked for in the last five years or so."
h/t CBS News