North Carolina Governor Amends HB2 "Bathroom Law" — But Doesn't Solve Bathroom Problem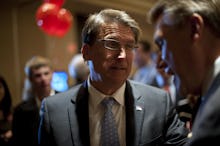 After North Carolina Gov. Pat McCrory in March signed into law a bill that prohibits anyone from using a public restroom that does not correspond with their biological sex, the governor's decision met much criticism. The legislation, known formally as the Public Facilities Privacy and Security Act, also prevents cities from passing anti-discrimination laws. 
On Tuesday, the governor signed Executive Order 93, which his office said "clarifies existing state law," according to a press release.
"After listening to people's feedback for the past several weeks on this issue, I have come to the conclusion that there is a great deal of misinformation, misinterpretation, confusion, a lot of passion and, frankly, selective outrage and hypocrisy, especially against the great state of North Carolina," McCrory said in a statement. "Based upon this feedback, I am taking action to affirm and improve the state's commitment to privacy and equality." 
While the executive order is the latest development in the House Bill 2 controversy, it does not appear as though any specific rules for bathrooms or municipalities were changed.
"First, it maintains common sense gender-specific restroom and locker room facilities in government buildings and in our schools, and when possible, encourages reasonable accommodations for families and those who have unique or special circumstances," McCrory said in a YouTube statement. "Second, the private sector can make its own policy with regard to restrooms, locker rooms and/or shower facilities. This is not a government decision. This is your decision in the private sector."
Read more: Powerful Photos Capture the Fight in North Carolina Over the New "Anti-Transgender Bill"