7 Weed Recipes That Are As Hearty As They Are Delicious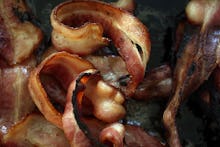 Edible marijuana isn't just for brownies anymore. 
The rise of its legalization has helped propel marijuana's place in the culinary world, as more people are able to openly and legally explore cooking with infused butters and oils, the New York Times reported. 
"It really won't be long until it becomes part of haute cuisine and part of respectable culinary culture, instead of just an illegal doobie in the backyard," Ken Albala, director of the food studies program at the University of the Pacific in San Francisco, told the New York Times.
Dosing oil or butter does require careful attention, measurement and often experience, so read up on dosing before hopping to it, lest your delicious food be ruined by fits of vomiting. Also, foods high in protein and fat will cause your high to last longer, especially compared to sugary foods. But slowing down doesn't have to mean cutting down on flavor.
Read more: Scientists Have a New Way to Help Keep Weed Edibles From Hospitalizing You
From delicious breakfasts to creamy mac and cheese, here are seven weed recipes that'll have you wondering what you were doing all this time:
1. Mac and cheese
Five tablespoons of cannabutter help to create up to six servings of this smoky mac and cheese. Marijuana isn't the only thing helping to enhance the comfort food, as it's flavored with paprika and nutmeg and topped with fried onions. Find the recipe here.
2. Cannabis tomato soup with grilled cheese croutons
Start by melting marijuana butter and sautéing the onions and garlic in them. Then combine the milk, heavy cream, tomatoes and broth for the soup's base. In a separate pan, make some grilled cheese sandwiches and slice them up into croutons to toss onto the soup. Find the recipe here. 
3. "Wake-N-No-Bake" chocolate peanut butter canna-cookies
Does it get better than a chocolate cookie that doesn't even need to go in the oven? The answer is no. Cannabutter, oatmeal, cocoa and peanut butter help create this batch of infused goodness. Find the recipe here.
4. Ganja guacamole 
Upgrade everyone's favorite dip by adding a teaspoon of cannabis oil alongside some cayenne pepper, fresh cilantro and diced tomatoes. Find the recipe here. 
5. Marijuana bacon
Lay some bacon strips on a baking sheet and sprinkle with ground-up marijuana. The fat and heat from the cooking bacon in the oven will convert the marijuana, like when you make cannabutter. Now just add this to your breakfast or eat it on its own (because, you know, it's bacon). Find the recipe here. 
6. Mexican hot chocolate
Indulge with this infused hot chocolate recipe. Add chili powder, cinnamon and cannabutter to create the perfect treat for a cold night — or any night, really. Find the recipe here. 
7. Pot-infused pesto
Make canna oil using olive oil and cannabis, then blend it with pine nuts, parmesan cheese, garlic and basil to create the perfect accompaniment to any pasta.