Former 'Glee' Star Lea Michele Honors Cory Monteith and Late Grandmother With New Tattoos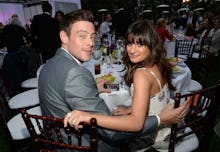 Lea Michele will clearly never forget her late boyfriend and Glee co-star Cory Monteith. She even dedicated one of her songs to him.
Now, the actress and singer has made the sentiment permanent. 
On social media, Michele shared a new tattoo that pays tribute to Monteith, who was found dead in his hotel room in 2013 following a drug overdose. 
The tattoo is the number five in numerical form, a nod to Monteith's character in Glee, who was the quarterback of the high school team and wore the number. The photo was accompanied with the caption: "And one more.. for my Quarterback.. #5."
Glee continued without Monteith's character until it ended last year, when Michele also paid tribute to the actor when they wrapped up filming for the show. Similarly, she made reference to his jersey's number.
Michele also got a small tattoo on her index finger of a steaming cup of coffee — a nod to her grandmother, who passed away this week. 
"I lost my beautiful grandma this week," she wrote in the caption. "She wasn't your typical grandma. She gave me my first cup of coffee when I was eight years old. She said something inappropriate to every boyfriend I've ever had. She never made pie or knit me a sweater. But she was my grandma and I loved her."
The tattoos may be minuscule in size, but their emotional resonance behind them are fittingly heavy — just like Monteith's sendoff on the series. 
Read more: As 'Glee' Comes to an End, The Show Returns to Its Origins