A Photographer Took Pictures of People Watching Porn to Show How We Really React to Sex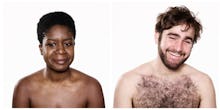 New York-based photographer Patrick Struys' new portrait series captures his subjects doing something most of us do when no one can see us — watching porn. 
Struys set up a booth in his studio and photographed his subjects as they watched a 5 minute and 30 second video he had edited together.
"It was important I was being [as] inclusive as I could be to every person's possible sexual orientation and/or tastes," Struys said in an email. "I edited a 5 minute 30 second film which included all types of adult films ... Every person watched the same film."
Struys was originally inspired to shoot the series by noticing how his friends reacted when they watched sex scenes in movies together. "I thought it was fascinating how different people reacted, processed and expressed themselves around sex when it was presented to them in a 'public environment,'" he said.
"I shot this series over a couple months," Struys said. "I made an open call to all my friends/mailing list and placed an open call on Craigslist. I did not disclose the subject matter of the shoot because I didn't want to deter people or have them [show] up too prepared intellectually/emotionally for the shoot."
During the actual shoot, all anyone could see of Struys was his camera lens. "It was definitely a challenge for me to keep quiet and keep shooting," he said. "It would have undermined the experiment if I stopped the process just because someone was uncomfortable."
At first, Struys said, his subjects were a little uneasy. "Obviously, initially people did laugh/smile," Struys said. "However, usually about 2 to 3 minutes in is when I would get their more 'honest' or 'natural reactions.'"
But, Struys said, not everyone got comfortable as time went on. "I believe my presence as a straight man heavily influenced the results," Struys said. "It became very obvious to me that women and gay men were much more comfortable showing their interest or expressing their sexuality in front of a straight man (behind the camera)." 
The discrepancy in reactions surprised Struys. "I wasn't expecting to encounter as many of those moments," he said. "All the straight men seemed very uncomfortable watching the film with me present, and expressed this by laughing, joking and talking throughout the entire shoot."
Struys said he hopes the series generates conversation among how we treat sex when it comes up "outside the bedroom." 
"But most importantly," Struys said, he hopes that people who see his photographs "have as much fun as I had shooting the series!"