John Kasich, the GOP's Anti-Trump, Warns Voters Not to Succumb to the "Dark Side"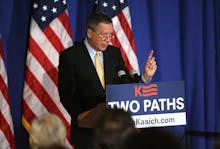 NEW YORK — If you only knew the power of the dark side, John Kasich said, you'd fight like hell not to let it overcome you.
The Republican Ohio governor on Tuesday intertwined a dire warning to voters about giving in to anger and hopelessness with an argument for his nomination for the presidency.
"I have stood on a stage and watched with amazement as candidates wallowed in the mud, viciously attacked one another, called each other liars and disparaged each other's character. Those who continuously push that type of behavior are not worthy of the office they are seeking," Kasich said during the morning address at the Women's National Republican Club in midtown Manhattan. 
Read more: Republican Candidates Take Their Brawl Over "New York Values" to New York
"And as for me, I will not take the low road to the highest office in the land," he said in a prepared speech on the "two paths" he believes Americans can choose in the 2016 election.
"I say to you that this path to darkness is the antithesis of all that America has meant for 240 years," Kasich said.
The governor didn't name-check Donald Trump or rival Ted Cruz in his speech — delivered just steps from the former's eponymous skyscraper — but his meaning was unmistakable.
Buckeye battle: While the Ohio executive and former congressman is running second in New York ahead of the April 19 primary, he trails both Trump and Cruz by large margins in the support of delegates needed to capture the nomination.
As of the latest RealClearPolitics tally, Trump has racked up 755 delegates to 545 for Cruz and 143 for Kasich.
However, the GOP is bracing for what could be a wild open convention in Cleveland if no one makes it to the 1,237 delegates needed to secure the nomination outright.
Continuing his message of positivity, Kasich elaborated on his speech in a question-and-answer session with reporters after a visit to a Brooklyn matzoh bakery operating on full steam ahead of the Passover holiday:
We're going to head to the convention with a message that you can either choose to look at the dark side and the problems and the failings and the frustrations of our country and drive people deeper into them, or you can recognize the problems and drive people with hope, with the ability to come together to solve problems. Anybody that chooses to drive America on the dark side is not doing a favor to the American people, because we will — we will overcome.
Box of fresh matzoh secured, Kasich then popped in for a visit at neighboring school — and submitted to a student's grilling on vital political issues of the day, including his favorite color (blue), his favorite food (pasta) and his favorite game (golf).
Ezra Friedlander, a consultant with a long history of involvement in the complex politics of New York's Orthodox Jewish community, helped organize the Kasich campaign swing.
Republican candidates often tour Orthodox neighborhoods, where there are pockets of more conservative voters — on Thursday, Cruz visited a Brighton Beach pre-school where he made matzoh alongside children — but Friedlander was quick to note that many of the issues that drive votes in these enclaves mirror those of American at large.
"It runs the entire gamut," Friedlander said in an interview. 
"The same concerns people have across the United States, people will have that here as well," he said. "So I think if you ask the candidates, they will tell you: Most of the concerns that people share with them, they've heard it before."