A Map Shows You Where to Get Some Fucking Peace and Quiet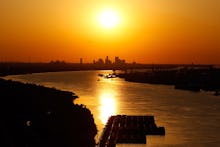 Is incessant drilling outside your office keeping you from getting work done or a car alarm keeping you from sleeping? Is your upstairs neighbor holding step team practice again?
Are you desperate for the world to just STFU already?
You're in luck. The National Park Service offers silence-seekers a "geospatial sound model" — aka a pretty map that shows you where in the country you can go to find some peace and quiet.
Read more: Hate Noise? Need Directions? Chatty Maps Is Your New Best Friend
The map uses data from a group of scientists who traveled the country measuring background noise everywhere, from the trickling of remote mountain streams to the hubbub of densely populated city centers, to calculate varying noise levels. In total the scientists examined 1.5 million hours of sound, according to the Washington Post.
The legend represents noise levels in decibels, in descending order.
"A model was developed to understand relationships between measured sound levels and variables such as climate, topography, human activity, time of day and day of year," the National Park Service explained on its website. 
Some general patterns emerged. The eastern half of the country is a lot noisier than its western counterpart. And wetter regions with more vegetation tend to be louder (like the sound of wind sweeping through tree leaves).  
So if your eardrums need a break this weekend, grab a toothbrush, this map and head toward the sound of silence.