A "Handy" Guide to Testing Your Meat for Doneness, Get Perfect Steaks Without Thermometers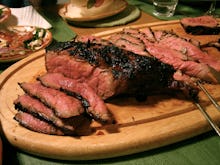 Obviously, checking the temperature of your meat can be achieved with a meat thermometer...
But you don't always have one regularly available. And more to the point: Poking holes in your meat while cooking it (similar to cutting it after it's done) results in all the delicious juices leaking out.
Luckily, the hand you're using to scroll through this article can be also used to gauge the doneness of your meat.
Ask Men has a great demo on how you can use your hand to test for five common "doneness" meat temperatures.
You do this by poking the meaty part of your hand at the base of your thumb and compare it to the piece of meat you're cooking. 
Poking at the base of your thumb with your palm open is comparable to a "blue rare" — or "extra rare."
If you bring your thumb and index finger together, the base of your thumb has more give, and is comparable to "rare" temperature meat.
Bringing your middle finger and thumb together gives the area a feel similar to "medium rare."
With your thumb and ring finger together, it feels like "medium."
Finally, bringing together your pinky and thumb creates a feel comparable to a ruined "well-done" piece of meat.
Watch the full demo below:
Read more: This Groundbreaking High Fat Diet Could Combat Diabetes and Promote Weight Loss