The "Genius Grant" Foundation Just Took a Big Step on Changing the Criminal Justice System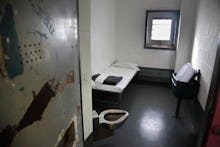 In the ongoing national conversation about criminal justice reform, prisons and police tend to take center stage, and a crucial element of the system is often left in the shadows: the use of jails.
Jails matter quite a bit. While they're short-term facilities primarily meant to hold people who are awaiting trial or sentencing, or low-level offenders serving shorter sentences, they still have a tremendous effect on people's welfare, often throwing a wrench in people's professional and family lives.
With close to 12 million admissions a year nationally, they take in nearly 20 times the number of people that prisons do. And just like in the prison system, the admissions rate and the length of stay for people sent to jail has increased dramatically since the 1980s. In other words, jails are far from a trivial contributor to America's mass incarceration problem.
Read more: One Year After Baltimore Went Up in Flames, Maryland Moves to Pass Criminal Justice Reform
That's why the MacArthur Foundation, an organization most famous for awarding luminaries in the arts and sciences with generous "genius grants" every year, announced Wednesday it's providing nearly $25 million in grants to help 20 jurisdictions across the country to rehaul their jail systems.
"The way we misuse and over-use jails in this country takes an enormous toll on our social fabric and undermines the credibility of government action, with particularly dire consequences for communities of color," foundation president Julia Stasch said in a statement. "These jurisdictions will show that change is possible in even the most intractable justice-related challenges in cities, counties, and states across the country."
Eleven jurisdictions will receive between $1.5 million and $3.5 million over the next two years, while nine will be given $150,000 grants. All jurisdictions will be given access to expert advisers as they go about pursuing the plans they pitched to the MacArthur Foundation on how to reduce their jail populations and make them fairer to marginalized communities.
The main 11 jurisdictions face great expectations — some of them are aiming to shrink their jail populations by as much as 34% as they implement their plans in the coming two years.
How they plan on doing it: As any close observer of America's mass incarceration affliction can tell you, there is no silver bullet when it comes to improving the way people encounter the corrections system. But the purpose of these grants is to try to discover some bronze ones.
"Instead of being used to protect public safety or ensure that people show up for their trial dates, they become warehouses for poor people or people who suffer from mental health or substance use issues, Laurie Garduque, the MacArthur Foundation's Justice Reform director, said in a phone interview. "The burden of this falls on low-income people and communities of color. For MacArthur, this is a matter of criminal justice reform — but it's also a matter of social and racial justice."