The Lucky Charms Milkshake Is About to Be Your New Food Obsession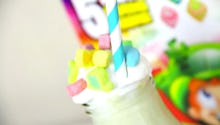 Meet the latest ungodly food hybrid: the Lucky Charms milkshake. Yes, you heard that right. A marshmallow milkshake that's made even more "magically delicious" by adding those familiar "hearts, stars and horseshoes, clovers and blue moons" (and the red balloons!).
Read More: Cheese Lovers Will Drool Over These 12 Super Melty, Delectably Cheesy Dishes
YouTuber Brittany Joyal tackled this food mash-up in a September video. To get a Lucky Charms milkshake that tastes "just like the bottom of a cereal bowl," Joyal says you've got to start by assembling your ingredients: Lucky Charms, marshmallow fluff, milk, vanilla ice cream and whipped cream or whipped topping.
A half-cup of Lucky Charms, a tablespoon of fluff, a half-cup of milk and 1 1/2 cups of ice cream all get measured out into separate cups and set aside.
Joyal recommends dumping the ingredients into your blender one-by-one (but not in any special order). Once it's blended to proper milkshake consistency, pour it out into a tall, frosty glass. Top with some extra whipped cream or whipped topping and some of your favorite Lucky Charms marshmallows as a garnish.
And voilà! Lucky Charms milkshake! Now sip and enjoy the sugar rush.
April 12, 2016, 6:20 p.m. Eastern: This story has been updated.