BuzzFeed Had Black People Ask "Black Questions" and the Internet Tore Them Apart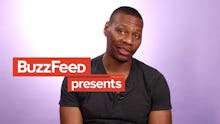 BuzzFeed's attempt at a subversive video featuring black people discussing black stereotypes certainly went viral — but probably not for the reason they had hoped. 
In "27 Questions Black People Have For Black People," black subjects ask questions mostly based off racial tropes, without any additional substance, leaving many commentators feeling the social project simply perpetuated harmful stereotypes rather than addressed them. 
"Why is growing up without a father so common in our race?" one man asked, for example, before swiftly moving onto the next subject, glossing over the fact that the myth of "absent black fatherhood" has been consistently debunked.
"There is an astounding amount of mythology loaded into this stereotype, one that echoes a history of efforts to rob black masculinity of honor and fidelity," the New York Times' Charles M. Blow wrote in June 2015. On a number of levels, said Blow, black fathers tend to be more involved in their children's lives more than other races. And, for those black fathers who are not as involved, mass incarceration and early death — both of which black men are highly vulnerable to — must be taken into account. 
Suffice it to say, Twitter got pissed about the video. Like really, really pissed. 
Former BuzzFeed writer Ira Madison III expressed his disappointment at having worked for a company which produced such content.