A Tulane University Fraternity Erected a Donald Trump Wall Around Their House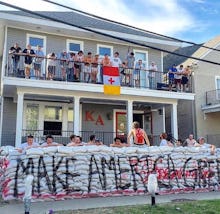 Donald Trump fans are so excited about his promise to build a wall along the Mexican border that some are constructing walls of their own.
Inspired by the Donald's promises, brothers at the Kappa Alpha Order fraternity at Tulane University built a wall of sandbags around their fraternity house. Emblazoned in red and black was Trump's name as well as his slogan "Make America Great Again."
Read more: Donald Trump Finally Explains How He'd Make Mexico Pay for His Border Wall
Images of the wall first came to light on Facebook and Reddit, the Daily Dot reported.
On social media, some Tulane students took issue with the wall, citing Trump's history of making anti-Mexican statements. The cause was particularly taken up by the on-campus Latino advocacy group Generating Excellence Now and Tomorrow in Education. 
"These connotations most directly mocked the experiences of Latino immigrants and workers throughout our nation," student Ana De Santiago wrote on Facebook. "By writing Trump in large, red letters across the 'wall,' KA changed what was a tradition of building a wall into a tradition of constructing a border, symbolizing separation and xenophobia. This issue not only affects Latinos but all other marginalized immigrant groups in this country." She ended with a plea that her message be shared with the hashtag ?#?StandWithYourGENTE?.
In a statement, Tulane officials said the wall was intended as satire and has since been taken down. 
"Every spring the Kappa Alpha (KA) fraternity erects a wall around its chapter house, which is on private property," they told the Daily Dot. "The leadership of KA's local chapter says that adding Donald Trump's name and slogan to this year's wall was done in order to satirize the candidate's campaign promise, not to show support for him. The wall has since been dismantled."  
Trump has said Mexico will pay for his border wall and plans to freeze cross-border financial remittances should the country not comply. 
It is unclear who paid for the Tulane wall.