The 'Doctor Strange' Trailer Is Here — And Benedict Cumberbatch Looks Awesome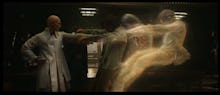 Benedict Cumberbatch is making a curious transition, going from the backdrop of Baker Street in Sherlock to Marvel's multidimensional superhero in Doctor Strange — and now we have a first look. As a guest Tuesday night on Jimmy Kimmel Live! Cumberbatch shared the film's first teaser, which mostly highlights the character's backstory. 
Cumberbatch is the titular character, Dr. Stephen Strange, who, if the film follows the comic origins closely as it implies in the trailer, should reveal he's a talented surgeon whose hands are crippled in an accident. Hoping to repair his mangled hands, Strange takes a trip to meet the Ancient One (Tilda Swinton), who supposedly wields all kinds of powers. 
Instead of only healing his hands, the Ancient One will teach him about the mystic arts, and just how expansive the world really is. "You're a man looking at the world through a keyhole," she says. "You've spent your life trying to widen it. Your work saved the lives of thousands. What if I told you that reality is one of many?"
What follows is a trippy, world-bending set of sequences, and an amazed Strange simply tells her: "Teach me." 
If it seems off-brand for Marvel — with hints of Inception and The Matrix — it isn't. Rather, it's Marvel's first foray into its appropriately stranger, magic-centric material, and should set up nicely into their final Avengers movies, focusing on the Infinity Wars. 
Check out the teaser for Doctor Strange below.
Read more: The New 'Suicide Squad' Trailer Shows the Joker and Harley Quinn Like Never Before