Solange's Photo of Blue Ivy Is Going Viral Because of Her Hair, of Course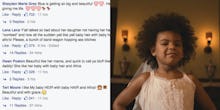 Get the five stories that will challenge you to rethink the world by signing up for MicCheck Daily.
If Beyoncé's four-year-old daughter Blue Ivy were old enough to throw her hat into the 2016 presidential race, she could have a clear shot at winning if she ran on a single-issue platform: her hair. The young royalty has captivated the nation with her locks — the latest snap is by Solange Knowles, Beyoncé's sister and her aunt, at the four-year-old's fairytale birthday party. 
The entertainer uploaded the photo, showing Blue dressed in all pink, with a matching bow in her hair, captioned, "My Twin. My Mood. My niece for president." Within twelve hours, the photo received about 100,000 likes, 4,000 shares and 1,500 comments — many of whom only seemed concerned with Blue's vivacious 'do. 
Read more: Here's What Happens If You Google "Unprofessional Hairstyles for Work"
"Y'all talked so bad about her daughter not having her hair 'combed' and now all the sudden y'all like y'all baby hair with baby hair and afro's!" one Facebook user named Lena wrote. She was referencing a "Formation" lyric  —  "I like my baby heir with baby hair and afros" — and the controversy that broke out over Beyoncé's handling of her daughter's hair a few years back when more than 5,000 people signed a "comb her hair" petition on Change.org, calling on Beyoncé to do just that.
Numerous commenters used the photo to point out the prevailing stigma surrounding black hair worn naturally. 
"I love her hair!" wrote another user. "My eight year old is always asking to wear her fro to school and I love it! It shows me she's comfortable being herself."